Best Digital marketing colleges in Bangalore – Course, Scope, Syllabus & Job Opportunities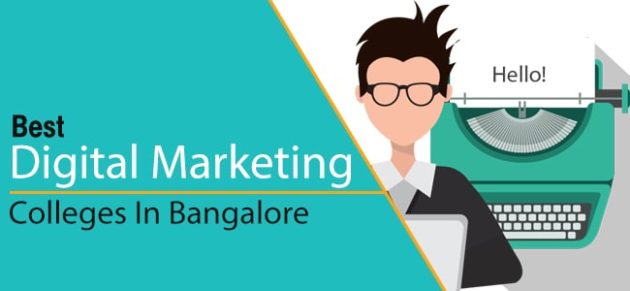 Marketing is everywhere; Marketing is how companies earn their money; Marketing is how a candidate wins elections. Whatever you see around you is the result of someone's marketing strategy in a direct or an indirect way – Those ads you see on TV, that particular brand of Phone you bought, A movie you watched recently – All of this is the result of someone's marketing strategy. Its one constant in every one's life that no one can escape no matter how hard they try. A marketer uses that to her/his advantage.
The advent of Internet has been both a curse and a boon for every individual. But for Digital marketers – it's a way of life, Internet is what brings bread to them.
Digital Marketing is same as traditional marketing, but only on digital channels & technologies. With every company going online, digital Marketing is at the center of every companies marketing & growth strategies. Digital Marketing is one of the most interesting and fast-growing fields there is. The demand for Digital marketers has been on a rise and it does not seem like that growth in demand is going to diminish anytime soon.
Though the companies are in need of Digital marketers, there are only a few to go around. The reason being the fact that there were no colleges that gave degree or taught Digital Marketing. Though there are several Digital Marketing training centers/institutes/coaching centers in Bangalore that have been existing for years now and will give you a certificate of completion. Now that the times have changed and there are plenty of options for people aspiring to become a Digital marketing expert. This post is to help those aspiring Digital marketers out in their journey of learning Digital marketing and getting a degree.
But before we get into the whole list of best digital marketing colleges in Bangalore, courses, scope and all those details, let us start with the basics.
What is Digital Marketing?
Digital Marketing is the process of using technology & digital channels to put the product in front your customers. Instead of showing ads on huge billboard, you show banner ads on Search Engines and other sites. Instead of sending physical newsletters & coupons through mails, you send them through Emails.
The most important thing that led to the rise of Digital Marketing is unlike in Traditional marketing, you can measure the success of your campaigns in Digital Marketing. Digital Marketing also help reduce expenses and a lot of hard work on the field.
Digital Marketing is not a process per se. Its actually a culmination of various other processes & fields like SEO, PPC, Social Media, Email Marketing etc. When you put all of these sub-fields together into one bowl, that is when you get Digital Marketing. In Digital Marketing you leverage (sometimes abuse) all the digital channels like Search Engines, Social media platforms, other websites to reach your customers.
---
Also Read Best BBA Aviation Colleges in Bangalore
---
Here is a list of sub fields of Digital marketing:
SEO – Search Engine Optimisation
PSA/PPC – Paid Search Advertisement/ Pay Per Click
SMM – Social Media Marketing
Digital Analytics
Email Marketing
Different Digital marketing courses you can pursue:
Diploma in Digital Marketing
BBA in Digital marketing
BCA in Digital marketing
MBA in Digital Marketing
If you are looking for something short term, you can always opt for certification courses provided by Digital marketing institutes in Bangalore.
Duration of Digital Marketing Courses in Bangalore:
The duration of course changes from college to college, but its more or less around 2-3 years. If you are looking for a short-term course, you can opt in for certification courses where you can learn basics of Digital marketing in 6 months and get a course completion certificate.
Eligibility To get into Best Digital marketing colleges in Bangalore:
To get into one of the best Digital Marketing colleges in Bangalore, you should have passed your 10+2/Pre-University course from a recognized board.
If you want to get into a Post-Graduation course like MBA, you should have a bachelor's degree in any discipline. Having a BBA or BCA degree from Best BCA Colleges in Bangalore would be a bonus point.
If you have at least basic command over English, that will help you out a lot during the course.
Digital Marketing Syllabus:
Organizational BehaviourWeb Design & Development
SEMESTER I
Communication Skills
Basics of Management
Business Communication
SEMESTER II
Accounting
Finance Management
HR Management
Economics
SEMESTER III
Basics of Digital Management
Digital Design and Communication
Internet Technologies
SEO
SEMESTER IV
Social Media Marketing
Advertising
Data Analytics
Data Mining
SEMESTER VII
Content Marketing
Lead Generation & Email Marketing
Mobile Marketing
SEMESTER VIII
Project Management
Business Laws & Ethics
Digital Marketing Laws
Seminar
Digital Marketing Scope & Job Opportunities:
From kids, adults to old – Internet has become an inseparable part of every one's life. So much so that, some of them can go without food for a day, but, god forbid, if the WiFi goes off for even 15 Minutes, they go crazy.
Every individual is going digital and Companies do not want to miss out on it. Hence, every company is jumping onto the Digital Marketing bandwagon. This is what has led to this huge rise in the demand for Digital Marketers. Digital marketing is arguably one of the recession free fields. Also, the realization that the best way to reach a customer is through their mobile phones.
Every company irrespective of its size or fields are in look out for Digital Marketing experts. From entertainment industry, software industry to biggest car companies, Digital Marketing is the need of hour for everyone. Specially after the Covid 19 pandemic, there are chances that Digital Marketing might just overtake traditional marketing in every aspect. Companies are ready to invest crores of rupees into Digital marketing campaigns.
If you have been thinking of getting into Digital Marketing, this is the best time to do it.
Job Roles & Profiles:
Once you complete your course from one of the best Digital marketing colleges in Bangalore, here are the job roles you can apply for. You can either become an expert in one of the fields of Digital Marketing or you can master all the fields and call yourself a Digital marketing expert. The choice is up to you.
Digital Marketing Executive
Digital marketing Manager
SEO Analyst
SEO Executive
Social media Marketing Expert
Digital marketing Copywriter
SEM (Search Engine Marketing) Specialist
Content Marketing Manager
Analytics Manager
Digital marketing Salary & Pay-scale:
Once you are out of that Best Digital Marketing colleges in Bangalore with a degree, here is what you can do and how much salary you can expect.
The salary completely depends on the kind of company you are joining. If you manage to get into a good company, you can expect a salary of somewhere around 2.5 LPA and then based on your skills and the results you bring, you can grow your salary.
If you are not someone who is interested in 9 to 5 job, you can be your own boss and become a Freelance Digital Marketer. The money depends on the kind of projects you get. There is no limit to the amount of money you make as a freelance Digital marketer – Neither Minimum nor maximum. Though, keep in mind that the competition is huge and getting good projects is a task in itself, especially if you are just starting out.
Best Digital marketing Colleges in Bangalore:
Christ University
Kristu Jayanti college
Pearl Academy
IFIM Business School
CMR University
Presidency University
NMIMS Global Access School
ISME – International School of Management Excellence
Indian School of Business Management
Zee institute of Creative Art
National Institute of Digital marketing
ITM Business School
Institute of Business Management & Technology
The post Best Digital marketing colleges in Bangalore – Course, Scope, Syllabus & Job Opportunities appeared first on Blog | College Review, Fee Structures | Campushunt.